Logging operations were shut down across Victoria on Tuesday with protesters entering active coupes in Lakes Entrance, Mt Cole, Toolangi, Warburton, Cambarville, Baw Baw and Noojee.
Traditional Owners, regional communities and climate and conservation groups are calling for an immediate end to logging in native forests across the state and the country.
Tactics used to shut down logging included two blockades that are ongoing, walk-ins and locking onto machinery. A further protest was held at Kinglake in a logged and burnt coupe.
Government sanctioned logging is continuing despite a recent Federal Court ruling that logging in the Central Highlands is in breach of environmental laws designed to protect threatened species. Daniel Andrews has refused to direct the state-owned company VicForests to halt logging despite the court finding their past, present, and future logging plans could be unlawful .
The court found that government-owned VicForests' operations were in breach of state and federal laws, the Environment Protection and Biodiversity Conservation Act (EPBC) and state-based Code of Practice for Timber Production.
Logging has exemption from federal environment laws under Regional Forests Agreement between the Commonwealth and the State of Victoria. VicForests has lost this exemption by failing to meet legal obligations under the agreements to protect threatened species.
Elders and Traditional Owners are speaking up against the handing over of their Traditional Country, Totems, Stories and Cultural Values to logging agencies without their consent.
"We as the First People belonging to this country, have never given consent for the destruction and decimation of our land," said Lidia Thorpe, Gunnai / Gunditjmara woman.
"Our Totems, Songlines and cultural identity are intrinsically linked with the bush and all living things within it," said Lidia Thorpe.
"Our mental health and well-being relies on the country to be alive. When it continues to be decimated by governments, it's also making us sick. It affects our emotional and spiritual well-being," said Lidia Thorpe.
"Governments have orchestrated and manufactured consent from corporations breaching the United Nations Declaration on the Rights of Indigenous peoples, article 19, which states 'States shall consult and cooperate in good faith with the indigenous peoples concerned through their own representative institutions in order to obtain their free, prior and informed consent before adopting and implementing legislative or administrative measures that may affect them,' " said Lidia Thorpe.
"Despite no prior consent from Traditional Owners, and the Federal Court ruling that the logging is illegal, the state-sanctioned destruction continues. Logging fuels climate change, increasing the risk of bushfire, which in turn destroys more forest, further exacerbating climate change. This deadly cycle must be broken by ending native forest logging," said Sarah Day, a spokesperson for the protests.
"More than 20 per cent of Australia's forest has burned in the recent megafires, fueled by climate change . An estimated one billion animals have been lost. It is criminal that state and federal governments are allowing logging to destroy critical unburnt threatened species habitat and further damage burnt forests, especially after the court ruling," said Chris Schuringa, a spokesperson for the protests.
"The legality of logging in any forests under the RFAs is under serious question. The Andrews government is effectively ignoring state and federal laws, and now everyday citizens are being left to hold them accountable by taking legal action, and physically putting their bodies on the line to stop the logging. Actions to stop this unlawful destruction will only escalate until state and federal governments step up to protect forests," said Chris Schuringa.
(Header photo: Mt Cole)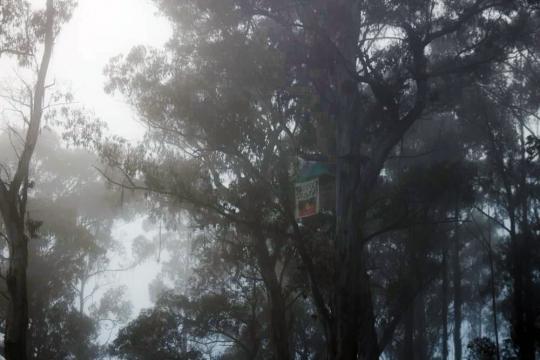 About the author
Eco-shout is a catalyst to action for environmental and social justice.