Logging operations were shut down en mass across Victoria and in NSW today for the second time as Traditional Owners, regional communities and climate and conservation groups call for an immediate end to logging in native forests.
Forest protests have ramped up across Victoria and NSW over the last months, halting logging in over 15 areas across both states.
Today in Victoria a blockade has halted logging in "Charmander" coupe in the Black Range, and protesters have walked into two more coupes, "Mariner" and "Inventory" nearby halting logging operations. Protestors have also walked into logging coupes in Toolangi, Lakes Entrance and two logging coupes at Mt Disappointment today halting logging operations. Protests also took place at Pyrenees State Forest in a completed logging coupe and in Darebin.
Newly elected Greens Senator Lidia Thorpe supported local community members and Elders Aunty Marjorie Thorpe, Gunnai, Gunditjmara at their walk in at Lakes Entrance.
This follows protests on 9 June when logging was shut down at Mt Cole, Lakes Entrance, Toolangi, Kinglake, Baw Baw, Noojee and Cambarville in Victoria and Nambucca State Forest in NSW through the use of walk-ins, blockades and locking onto machinery.
In Victoria, Government sanctioned logging is continuing despite a recent Federal Court ruling that logging in the Central Highlands is in breach of environmental laws designed to protect threatened species. Daniel Andrews has refused to direct the state-owned company VicForests to halt logging despite the court finding their past, present, and future logging plans could be unlawful.
Logging is increasing in areas recommended for National Park by the Victorian Environment Assessment Council (VEAC), including Mt Cole and the Pyrenees State Forest. The Government was due to respond to the VEAC recommendations in February.
"Through these protests we stand with Traditional Owners who tell us this logging is happening without their consent and is destroying their Country, Totems and culture and causing severe distress; it is considered part of an ongoing genocide," said Sarah Day from the Pyrenees protest.
In NSW, Gumbaynggirr Custodians and community members have locked onto logging machinery and are calling for an immediate end to logging across Gumbaynggirr homelands. This comes after NSW Forestry Corporation abruptly halted work in the Nambucca State Forest following weeks of community action by the Gumbaynggirr Conservation Group.
Forestry Corporation was given a Trespass notice from Gumbaynggirr Custodians.
"We have given our notice of Trespass to the Forestry Corporation and demanded they stop the logging of all Gumbaynggirr Country for lack of jurisdiction and no conciliation or consent. The NSW Government and Forestry Corp are breaching international and domestic law under the international declaration of Indigenous people's rights," said Sandy Greenwood, Gumbaynggirr Custodian and spokesperson.
"More than twenty per cent of Australia's forest has burned in bushfires this season fuelled by climate change. An estimated one billion animals have been lost. It is criminal that state and federal governments are allowing logging to destroy remaining unburnt forests and further damage burnt forest," said Sarah Day.
"Logging fuels climate change, increasing the risk of bushfire, which in turn destroys more forest, further exacerbating climate change. This deadly cycle must be broken by ending logging," said Sarah Day.
"Logging itself creates much more fire prone landscapes by replacing older damper forest with young, dense dry forest; the recent fires were made worse by logging and mismanagement of the forest, it is simply a disaster that logging continues," said Sarah Day.
(Header photo: a tree sit tied to machines halting work in the Black Range, "Charmander" coupe in Victoria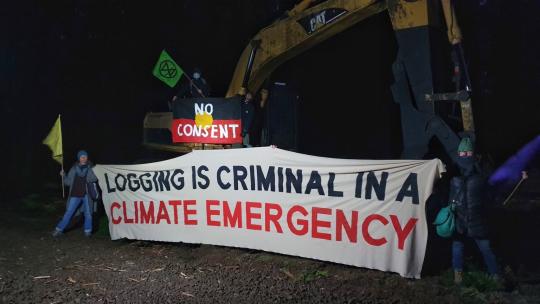 About the author
Eco-shout is a catalyst to action for environmental and social justice.