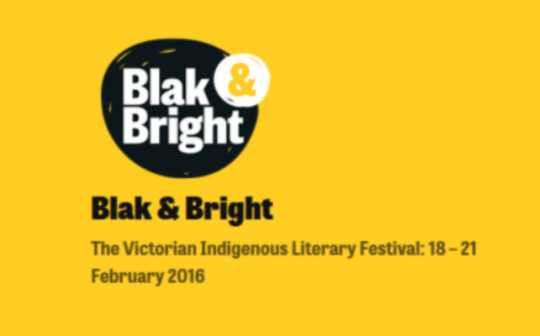 The Victorian Indigenous Literary Festival at The Wheeler Centre
Thursday, 18 February 2016 - 8:30am
to
Sunday, 21 February 2016 - 6:30pm
The Wheeler Centre - 176 Little Lonsdale St, Melbourne.
Victoria
Passionate about Indigenous culture, music, stories and books? Or curious? Check out Blak & Bright, the inaugural Victorian Indigenous Literary Festival. Blak & Bright will include more than 20 sessions featuring 50 plus Indigenous writers, storytellers and performers. Featuring James Henry, Monica Weightman, Kutcha Edwards, Tammy Anderson, Robbie Batzke, Kate Howarth, Shauntai Batzke, Carly Sheppard, Baden Hitchcock, Anita Heiss, Tony Briggs, Bruce Pascoe, Lee Francis IV, and Ali Cobby Eckermann, to name just a few.
For information on Blak & Bright including sessions, session times and booking information, check out the Black & Bright webpage. Most sessions are free and all welcome.