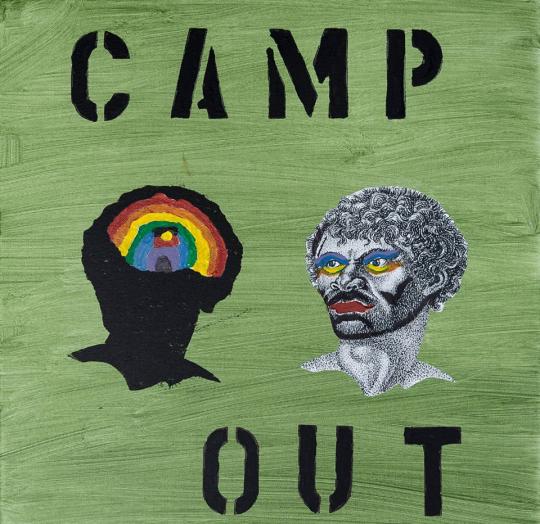 Koorie Heritage Trust
Saturday, 4 May 2019 - 7:00pm
Koorie Heritage Trust, The Yarra Building, Federation Square, Melbourne
Victoria
campOUT will amplify Blak queer perspectives in a one-night extravaganza. Join us to launch the solo exhibition insideOUT by Peter Waples-Crowe at the Koorie Heritage Trust while acknowledging the ongoing presence of LGBTQI First Nations people and celebrate the many contributions the community has made through the arts.
Highlights include an in-gallery performance by the compelling musical force that is Mojo Juju, DJ set by the inimitable SojuGang and a showcase of fashion collection Mirrigang, created by Peter in collaboration with Vincent LI PTY LTD.
For the duration of YIRRAMBOI Festival and beyond, Peter Waples-Crowe will transform the Koorie Heritage Trust into a Blak queer hub to bring stories from the outside, in. campOUT is the Blak queer celebration this city deserves.
Get glam and set up camp for a moment in this Blak-queer-centric space.
Food and drinks by donation provided by Mabu Mabu, indigenous catering.
Saturday 4 May 7:00pm - 9:00pm
Arrive early - limited event capacity.
This event is being presented as part of the City of Melbourne's YIRRAMBOI First Nations Arts Festival.
Image credit: Peter Waples-Crowe (Ngarigo), campOUT, 2018, acrylic and collage on canvas. Image courtesy of the artist.
#campOUT #insideOUT #KoorieHeritageTrust #Queer #FirstNations #IndigenousArt #ExhibitionOpening #Melbourne #YIRRAMBOI #FirstNationsArt #AboriginalArt #LGBTQI #LGBTQ #LGBTQIA #LGBTQIACommunity
Yirramboi Festival - City of Melbourne - Fed Square - Koorie Heritage Trust Inc - Creative Victoria
Facebook event