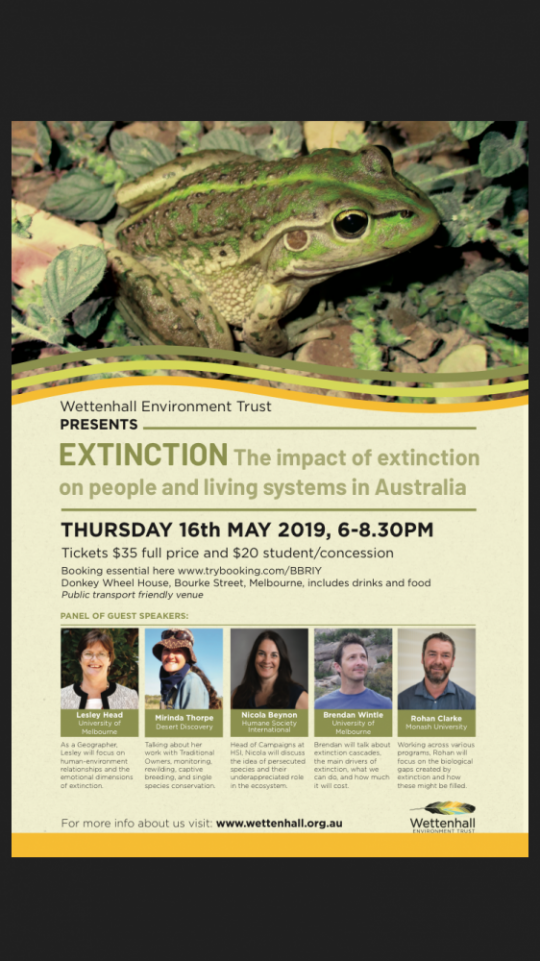 Wettenhall Environment Trust
Thursday, 16 May 2019 -
Donkey Wheel House
Victoria
EXTINCTION will showcase diverse ideas and perspectives relating to the impact of extinction on people and living systems in Australia.
A panel of speakers will present ideas and research about what it means to be living in the Holocene extinction (Sixth Mass Extinction).
PANEL INCLUDES:
- Lesley Head - A geographer who focuses on human-environment relationships and the emotional dimensions of extinction.
- Mirinda Thorpe - Works with Traditional Owners, monitoring, rewilding, captive breeding, and single species conservation.
- Nicola Beyon - Is Head of Campaigns at Humane Society International - she will discuss the idea of persecuted species and their under appreciated role in ecosystems.
- Brendan Wintle - will focus on extinction cascades, the main drivers of extinction, what we can do, and how much it will cost.
- Rohan Clarke - will focus on biological gaps created by extinction and how these might be filled.
Ticket price includes wine and food catered by Donkey Wheel House's social-enterprise Kinfolk cafe - all profits from catering go toward supporting the Asylum Seeker Resource Centre and Cathy Freeman Foundation
Please feel free to invite friends who you think might be interested.
Link to tickets: https://www.trybooking.com/book/event?eid=486276&