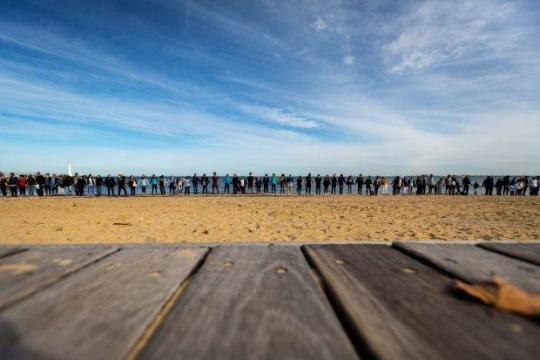 Great Australian Bight Alliance
Saturday, 20 May 2017 - 12:00pm
St Kilda Beach, Melbourne
Victoria
Despite BP pulling out, other Big Oil companies are lining up to exploit the Great Australian Bight.
It's time once again to come together and join Hands Across the Sand on 20 of May.
This is a family friendly event - everyone is welcome.
* Live music
* Guest speakers
* Face painting and kids activities
* Joining 'Hands' media action
* Marine debris beach clean up (starting 10am)
Say 'YES' to clean energy and 'NO' to inappropriate exploration and drilling in our Great Australian Bight.
#JoinHANDS
#FightForTheBight
#BigOilhasnofutureintheBight
About the campaign
Six years on and the costs of BP's disastrous Gulf of Mexico oil spill continue to emerge. It was the worst in history - devastating marine life, fisheries, tourism and local communities. Now BP are pushing to drill the Great Australian Bight. They will be the first of a wave of oil companies looking to expand the fossil fuel industry into the Bight, placing the pristine marine environment at risk.
Exploration drilling is when it all went wrong in the Gulf of Mexico. BP want to start exploration drilling in the Bight this year. In waters far rougher, far more remote and far riskier than the Gulf of Mexico. To do this they need approval of an Environment Plan by the National Offshore Petroleum Safety and Environmental Management Authority (NOPSEMA). BP submitted their plan on October 1st, 2015 and NOPSEMA rejected it, requiring BP to provide more information before they could be allowed to proceed. BP has stated that they will submit an altered plan to continue their campaign to drill in Bight.
BP is required to carry out appropriate consultation about their plan, about the risks that exist from drilling and how these risks will be handled. Their consulted was very general with assumptions of a "worst case"oil spill being 35 days. Their Gulf of Mexico spill poured oil into the sea for 87 days and there were other rigs on hand to drill down and stop the flow of oil. They have no standby rigs anywhere remotely near the Bight. And BP are refusing to disclose to the public key oil spill modelling information and are yet to provide full details of how local communities, councils and organisations could cope with an oil spill.
The risks from any oil exploration are completely unacceptable. An oil spill is an unavoidable risk. BP will not let us know enough information about an oil spill in the Bight and how it would be handled. BP inflicted untold damage and hardship on the people and the environment of the Gulf of Mexico. Now BP want to drill for oil in the Bight.
Facebook event