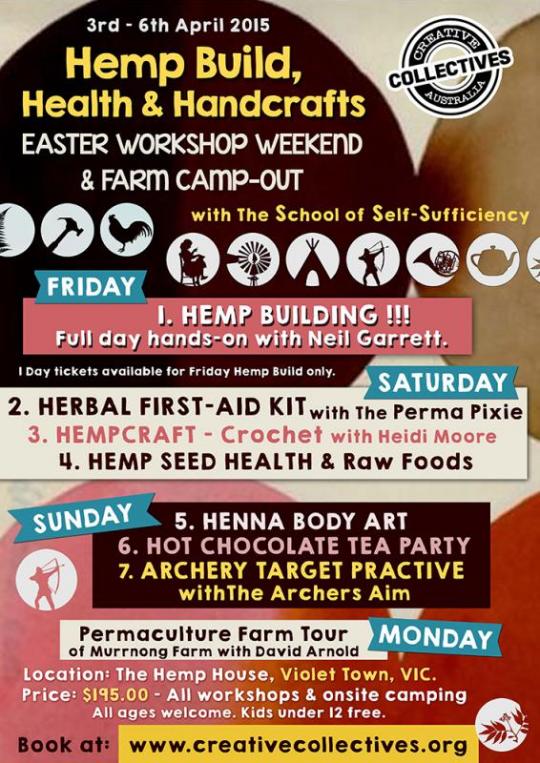 Hemp Building, Health and Hand Crafts - Easter Weekend
Friday, 3 April 2015 - 9:00am
to
Monday, 6 April 2015 - 8:00pm
Violet Town
Victoria
Hemp Building, Home Health and Hand Crafts
8 Diverse Workshops, Communal Camp out on a Farm and Plenty of great new friends.
This is a unique program that allows participants to learn 8 new skills over one weekend from a variety of self-sufficiency categories whilst camping out and experiencing community living at one of our collaborative farm locations, this month at the Hemp House in Violet Town, VIC. We invite teachers to come along and pass on their speciality skills and knowledge to 30 lucky participants. Some classes will be very high energy, hands-on and practical and others will be at a slow pace, relaxed and engaging, and there will also be plenty of time for socialise and have a great time with the other participants. The Easter Weekend will be particular good for a family holiday and kids under 12 are welcome for free. Each weekend brings a diverse array of people from all ages and walks of life, don't be afraid to come on your own as we can guarantee you'll make new friends in seconds.
Date: 3rd – 6th of April. Full Easter Weekend. Participants are welcome to arrive on the Thursday to set-up camp early and the site will close late Monday afternoon.
Location: The Hemp House, Violet Town. Exact address sent upon booking.
Facilitator: Kate Marsh and Ralph Nottingham of Creative Collectives and Neil Garrett, builder of the Hemp House.
Cost: $195 including all workshops and camping onsite. Kids under 12 free. One-day tickets also available for Friday Hemp Build only.
Early Bird Tickets: $175.00 – ends 28th February.
WORKSHOPS:
Easter Friday
1 - Hemp Building Hands-on
Saturday
2 - Herbal First-Aid Kit
3 - Hemp Craft Crochet
4 – Hemp Seed and Raw Food Health
Sunday
5 - Henna Body Art
6 – Hot Chocolate Tea Party
7 – Archery with the Archer's Aim
Monday Morning
8 - Local Permaculture Farm Tour
Facebook event