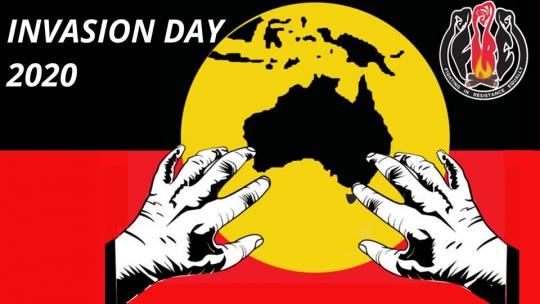 FIRE Fighting In Resistance Equally
Sunday, 26 January 2020 - 11:00am
Hyde Park South, Corner of Elizabeth & Liverpool Sts Sydney NSW 2000
New South Wales
For First Nations Peoples and Allies the 26th of January is the day that marked the Invasions of our Peoples.
It is offensive to celebrate genocide and the attempted subjugation of over 500 different nations.
Join us in our peaceful protest against the continuing John Howard driven style of jingoistic Nationalism (Fascism), propping up the colonial oppressive state.
Let's get ready for Invasion Day 2020
Police numbers for recent years:
2015: 400 people
2016: 6,000 people
2017: 12,000 people
2018: 30,000 people
2019: 50 to 60,000 people
The momentum for change is here, the momentum for change is now, be part of that momentum.
The war on Aboriginal people continues…
Sovereignty never ceded and Justice denied
This rally will mark 232 years since British military forces invaded Gadigal land and declared British rule over this continent, along with Aotearoa and other Pacific Islands.
While colonial regime continues to hold a day of celebration, we resist the ongoing war against Aboriginal people.
From the brutalisation of black youth in detention, the murder of men and women in custody, the theft of children from families, the destruction of Aboriginal lands to feed corporate profits, the apartheid NT Intervention, the forced removal of communities.
First Nations on this continent are under heavy assault from a new wave of dispossession. But the fightback is also growing and urgently needs your support.
FIRE believes that uniting people and groups from all walks of life, and working in solidarity against the colonial system and the racist mindset that was brought here in 1788 is crucial to all struggles against oppression and exploitation.
This rally has been initiated by FIRE Fighting In Resistance Equally, a coalition that organised the last 3 impactful and successful "Invasion Day 2017 rally - no pride in genocide!", "Invasion Day 2018" and "Invasion Day 2019 (Sydney)" along with multiple other events throughout 2016, 2017, 2018 & 2019
2020 has to be especially impactful (and FIRE needs your help) to make Gweagal/Bidjigal #resist250 really big to counter the Govt's spin about Cook 25-April to 3 May (29-April-2020)
Facebook event