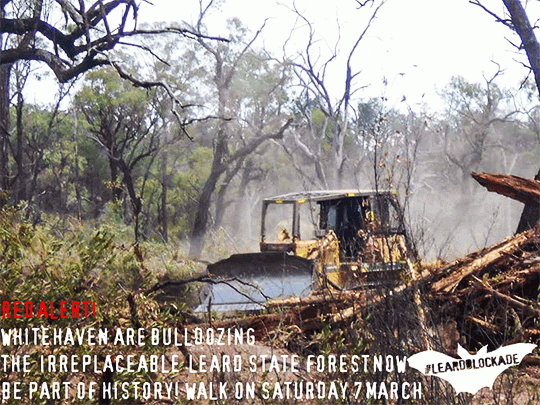 Leard Blockade Red Alert Walk On
Friday, 6 March 2015 - 7:00am
to
Sunday, 8 March 2015 - 11:00pm
Leard Blockade, Maules Creek
New South Wales
Whitehaven are smashing the Leard State Forest. FAST.
If you've ever thought of coming up to the Leard Blockade – Now is the time!
And whether or not you have planned to come up to stop the bulldozers in Whitehaven's 10 week allocated clearing time, now is the time! – they will have finished the second round of bulldozing in less than a couple weeks, if we don't keep giving them hell now.
We need you.
Join us Friday 6th for Saturday 7th March – for a day full of powerful non-violent direct action at the #LeardBlockade.
frontlineaction.org/visit-leardblockade
Facebook event