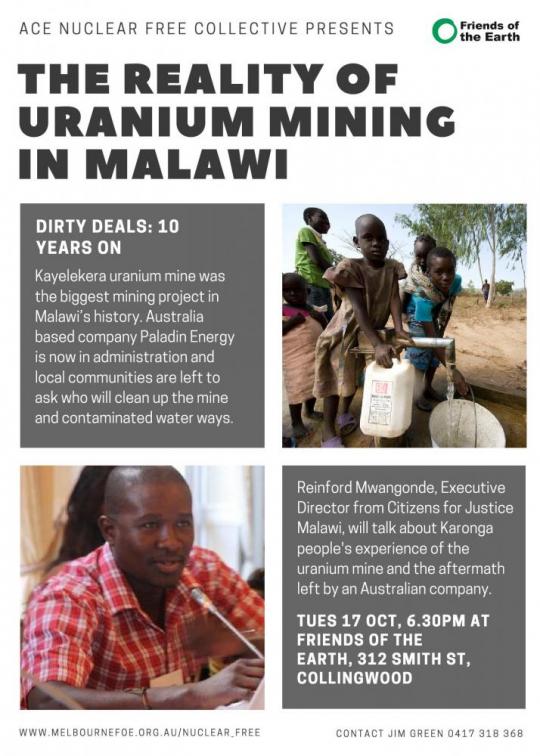 Friends of the Earth
Tuesday, 17 October 2017 -
Friends of the Earth, 312 Smith St, Collingwood
Victoria
Dirty Deals 10 Years On ‒ The Story of Uranium Mining in Malawi
Public meeting, all welcome
Tuesday October 17, 6.30pm to 8pm
Friends of the Earth, 312 Smith St, Collingwood
Guest speaker: Reinford Mwangonde from Citizens for Justice, Malawi.
Reinford has challenged Perth-based mining company Paladin Energy's Kayelekera uranium mine in Malawi, the heart of Africa, since before the licence was granted in 2007. The history of the mine has been littered with worker deaths, spills and leaks, and conflict between Paladin and the surrounding community.
Now the mine has been put into care-and-maintenance and Paladin Energy has gone bust and been put into administration.
Will the Kayelekera mine site be rehabilitated ‒ or will it remain a toxic eye-sore and a testament to the appalling history of Australian mining companies operating in Africa?
Please join Friends of the Earth and Reinford Mwangonde for this important discussion.
Contact: Jim Green 0417 318 368,
Snacks and drinks provided.
Facebook event