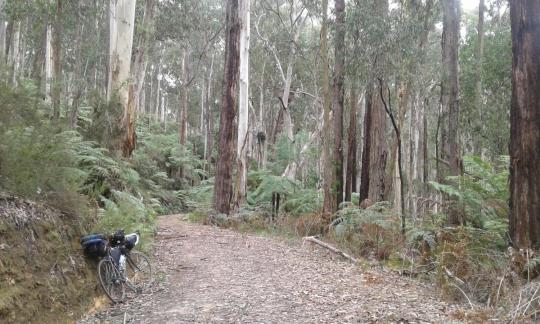 Riding for the Great Forest
Saturday, 17 March 2018 -
Dee Rd Carpark
Victoria
This ride is intended as a social day out on bikes that should be achievable by anyone with a basic level of fitness. Bring your friends who don't ride but have bikes to get them excited about cycling. Bring a packed lunch or a picnic and enjoy a scenic day of riding in the Yarra Ranges. It's going to be awesome! =D
This will be a relatively chill day of riding following the extremely scenic O'Shannassy Aqueduct from Dee Rd Carpark to the O'Shannassy Reservoir and back. The total distance is about 50km though there are no hills. It may be possible to car shuffle depending on the group size, alternatively only ride as far as you are comfortable with before turning around.
I have ridden this route on a road bike without any problems, but you will be more comfortable on a cross country mountain bike, hybrid or hard tail. You can probably pull it off on a single speed or fixie if you are so inclined. There may be the odd fallen tree or obstacle to walk around, and there are a few road crossings but ostensibly the route is a flat, off-road walking and cycling path.
A free, self-supported day of cycling in the central highlands. BYO bike, snacks, water, spare tube, tools, rain jacket, everything you need to be comfortable for a day on your bike.
On request I can probably put together a GPS file (.gpx) but I don't think it's necessary for this route as it is well sign posted and easy to follow. There is more information here: http://parkweb.vic.gov.au/explore/parks/yarra-ranges-national-park/thing...
Facebook event