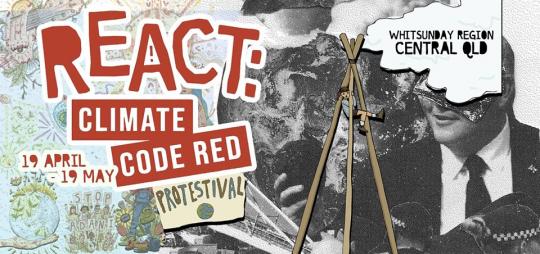 Frontline Action on Coal
Friday, 19 April 2019 - 9:00am
to
Sunday, 19 May 2019 - 5:00pm
Central Queensland, near Bowen
Queensland
This April, we are calling CODE RED ON CLIMATE CHANGE.
Between the 19th April – 19th May, grassroots groups, artists, musicians & skill sharers from across the continent are converging on Central Queensland for a month of direct action, training, workshops and entertainment in opposition to inaction on climate change, Adani's Carmichael mine & the opening of the Galilee to further coal mining.
The IPCC recently announced that unprecedented change needed to happen over the next 12 years to avert a climate catastrophe that would lead to societal collapse and mass species extinction. Australia is one of the most uniquely biodiverse countries in the world and yet is ranked as the worst performer on climate action. The great barrier reef continues to suffer from bleaching events from increasingly warm oceans and Australia has the highest rate of mammal extinction in the world.
The Adani Carmichael coal mine and rail project would open the Galilee Basin to further thermal coal mining, with approvals current for a total of 5 coal mines and current proposals for an additional 4 massively increasing Australia's contribution to climate change. Australia is already the largest exporter of thermal coal and with most countries decreasing coal use, increasing thermal coal export does not make economic or environmental sense.
Australia must keep all Galilee thermal coal in the ground and rapidly phase out domestic use if we are to avert catastrophe.
With a climate emergency imminent it's time to REACT!
Come and be a part of the fight for survival.
Facebook event