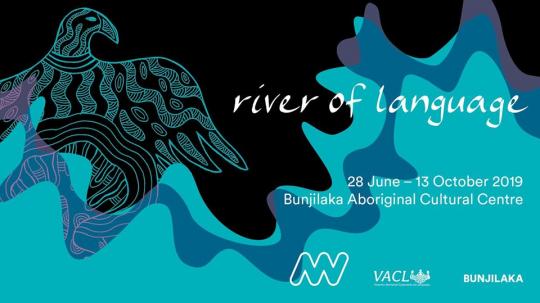 Victorian Aboriginal Corporation for Languages
Tuesday, 13 August 2019 - 9:00am
to
Sunday, 13 October 2019 - 9:00am
Bunjilaka Aboriginal Cultural Centre, Melbourne Museam, Nicholson St, Carlton
Victoria
We're kicking off the National NAIDOC celebrations with the launch of an immersive soundscape exhibition that celebrates UNESCO's International Year of Indigenous Languages and the 25th Anniversary of the Victorian Aboriginal Corporation for Languages (VACL).
ngulu wurneet, galada-al wurrung-u, parniwaru tyalingi, waran woorroong-ee, barringgi dyaling - River of Language encourages visitors to be immersed in Aboriginal ways of Knowing, Being and Doing, and learn through listening and observation.
In Aboriginal culture, land and language are inextricably linked. Language is directly connected to place, through the mimicry of animals and nature in dance; the visual language in body art, motifs and symbols in stone etchings, sand paintings and ceremonial ornaments, music and sound vocalisation; and the naming and relationship of all things, embodying the interconnectedness of our existence.
Filtering through the spears and shields, visitors will continue into the Welcome to Country space where the Law of the Land - to listen, learn and respect the laws of the Bunjil - are offered. A collaboration between young indigenous creatives and the exhibition curators will see the wall of the Birrarung Gallery come to life with a striking 28 metre mural depicting Ancestral Creation Beings and honouring Victoria's 44 language groups.
Facebook event