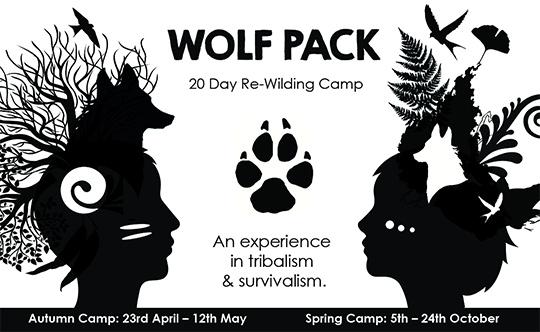 Creative Collectives
Thursday, 5 October 2017 - 11:00am
to
Tuesday, 24 October 2017 - 2:00pm
Secret location in North East
Victoria
A Re-Wilding Camp for Adults!
20 days. 20 acres. 30 people.
In a secret natural location in North-East Victoria nestled in the National Park. Daily challenges, activities and adventures.
Take a break from society and create your own world together.
Wolf Pack is for anyone looking for a unique adventure, bush craft skill-building, nature time, camping and community.
DEVELOP… a deeper understanding of nature by delving into its intrigues through observation and participations.
LEARN… new skills daily. With guest teachers in re-wilding, bush craft, shelter building, natural health, simple living, wild life, traditional crafts, ancient and recent local traditions, adventures, creativity, exploration, self-development and community living.
CONNECT… with yourself, nature and your new tribe through daily activities, games, challenges and freedoms unavailable in day-to-day life.
TAKE A BREAK… from reality to discover something new. This program will give you the time and space to break down the layers, melt into nature & community, and hone new skills.
Come together and enjoy life, living and learning on a secret clearing amidst a beautiful national park of North-East Victoria (3 hours from Melbourne).