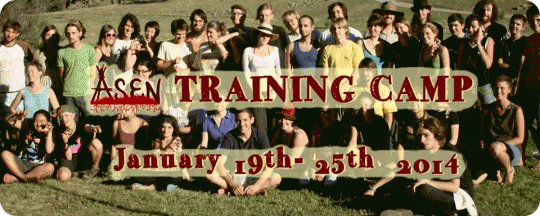 ASEN Training Camp
Sunday, 19 January 2014 - 9:00am
to
Saturday, 25 January 2014 - 5:00pm
Camp Eureka, Yarra Junction
Victoria
Each year the Australian Student Environment Network organises 5 days of skillshares, networking and planning. From ending all ties between the university and fossil fuels to picking up basic facilitation skills, anyone who wants social and environmental justice on their campus and broader society will get something out of it.
Camp Eureka a fantastic venue just 2 hours North of Melbourne, the menu's looking scrumptious and we have some really rad worshop and campaign ideas. Please take a moment to register your interest so that we can prepare for everybody properly! Workshops will start bright and early on the 20th, so consider arriving on the 19th if you want to catchup with people and help with any last minute preparations
NB: While we couldn't find accommodation in Canberra close to the tent embassy many of us will be travelling there on the morning of the 25th, to camp overnight and participate in the traditional Invasion/Survival day ceremony on the 26th. We encourage everybody to join us for this, whether you can make Training Camp or not.